Sawdust Pellet Making Machine With High Quality And Large Capacity
Answers:0 | LastUpdateAt:2020-09-19 01:42:40
Question
richipelletmill

Asked at 2020-09-19 01:42:40
Wood Sawdust pellet machine is mainly applicable for difficult molding materials with low adhesion rate,for example rice husk, sunflower husk, peanut shell and fruit shell; branch, stem, bark and other wood waste; a variety of crop stalks; rubber, cement, ash and other chemical materials. Sawdust Wood Pellet making Machinery can be used in feed mill, wood processing plants, fuel plants,fertilizer plants, chemical plants etc.Since it requires less investment and yield quicker result and that no risk,Vertial Ring-die Wood Pellet Machine is an ideal dense compression molding equipment.
Sawdust Pellet Mill Features
1. Feeder: feeding raw material into the pellet making chamber.the feeder is made of stainless steel.
2. Forced feeding unit: since the raw material is fluffy, and the bulking value is higher, we equip the force feeding device.
3. Pellet making unit: ring die and press roller inside work together to make the biomass wood raw material into wood pellet.
4. Main motor: driving the pellet making system.
5. We adopt the super quality Siemens brand motor in our machine.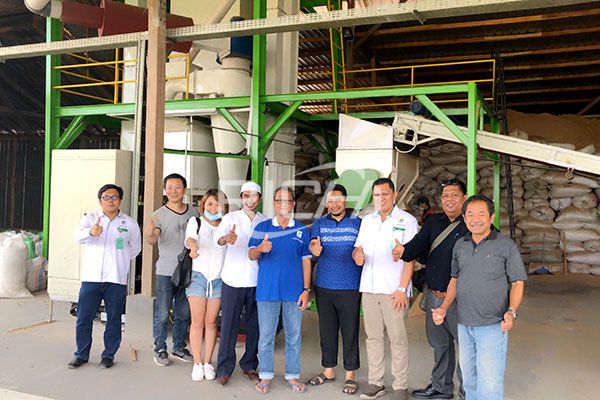 How To Make Sawdust Into Pellet
1. Use Wood Chipper, Wood Crusher to make wood logs, chips (or other materials) smaller.
2. Use Dryer (rotary drum dryer / Air-flow dryer) or add water to the sawdust(or other materials) till its moisture content between 8-15%, which is the best moisture content for pelletizing.
3. Put the sawdust into the pellet machine gradually. Large scale pellet production need a screw feeder to make sure stable feeding of raw material.
4. After pelletized, the pellets are of high temperature that is not suitable for direct packing. So they should be cooled by pellet cooler.
Then, pellets go through a vibrating sieve, where good pellets will be left, while broken ones or powder will be collected for reproduction.
5. After all the above procedures, pellets can be packed with a pellet packing machine.
1.What about the size of the final wood pellets?

The size is adjustable according to your requirement.the diameter range of the wood pellet is ø4-12 mm by using different ring die mould. the length of the wood pellet could be adjusted according to clients requirements.
2.What's the material of the ring die?
We have two kinds of the ring die material, one kind is the stainless steel, the other one is the carbon steel.Usually, we adopt the stainless steel material.
3.Which brand motor will you use?
All of our machines adopt the Siemens beide motor , the most famous brand in China.
4.We only bought one wood pellet mill , do you have other wood equipment?
Yes, except offer the wood pellet mill , we also provide the complete wood pellet machine line.
5.How to know more about the wood pellet mill equipment power, capacity, dimension or weight?
Please refer to the detail parameters, or leave your contact information at below, we will according to your requirement to send the details for you within 5-6 hours.
6.Will you dispatch the engineer to guide installation the wood pellet production line ?
Yes, according to the customer's requirement, we will dispatch the engineer to guide installation the wood pellet production line .
7.How about you to ensure the wood pellet mill normal running?
Except the installation engineer, we also provide the production engineer to guide how to keep a good production.
8.How long is the warranty of the complete wood pellet production line ?
One year warranty and comprehensive after-sales service.
Henan Richi Machinery Co., Ltd Contact
Email: [email protected], whatsapp:+86 15003890639
Sawdust Pellet Mill: https://www.pellet-richi.com/wood-pellet-machine/sawdust-pellet-mill.html
Sawdust Pellet Mill: https://www.wood-pellet-plant.com/wood-pellet-machinery/sawdust-pellet-mill.html
This Question:"Sawdust Pellet Making Machine With High Quality And Large Capacity " No answers yet.
Be the first
!