Fish Feed Machine Fish Feed Pellets Production Technology
Answers:0 | LastUpdateAt:2019-10-24 00:12:46
Question
Asked at 2019-10-24 00:12:46
Our company Fusmar has long been specialized in producing all kinds of fish, shrimp, poultry, and livestock with feed pellet production line processing machinery and complete sets of equipment. If you are interested in a fish feed machine, welcome to our website.
Fish Feed Pellets Production Technology
The processing of compound feed for fish is not consistent with the feed for poultry, and its product form can be divided into powder, granules, grits and puffing. There is no difference in the processing technology between powdery and poultry products, mainly including cleaning, crushing, compounding, mixing, spraying grease, metering and packaging. The use of pellets for fish especially expanded feed, is quite different from the processing of compound feed for poultry. In the case of granules, the mixed powder granulated through a fish feed extruder and then cooled.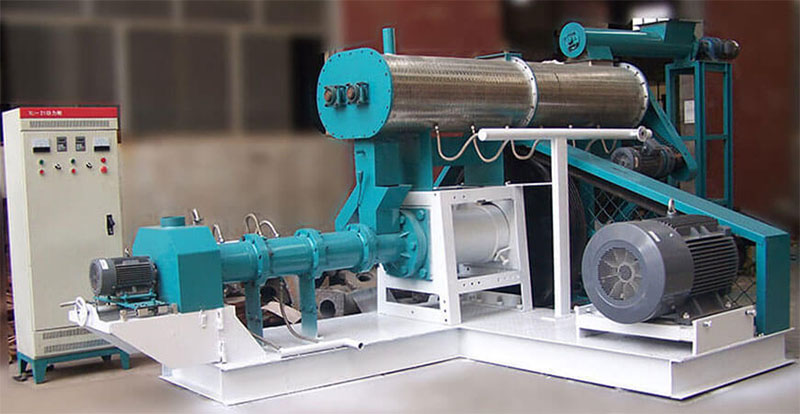 Technological Process Of Fish Feed Pellet Production Line
Raw materials preparation → mixing → transportation → extruding and expanding → transportation → drying → cooling → seasoning → packaging
Equipment Configuration:
Feed Hammer Mill → Mixer → Fish Feed Extruder → Pellet Dryer → Pellet Cooler → Seasoning Machine → Packaging Machine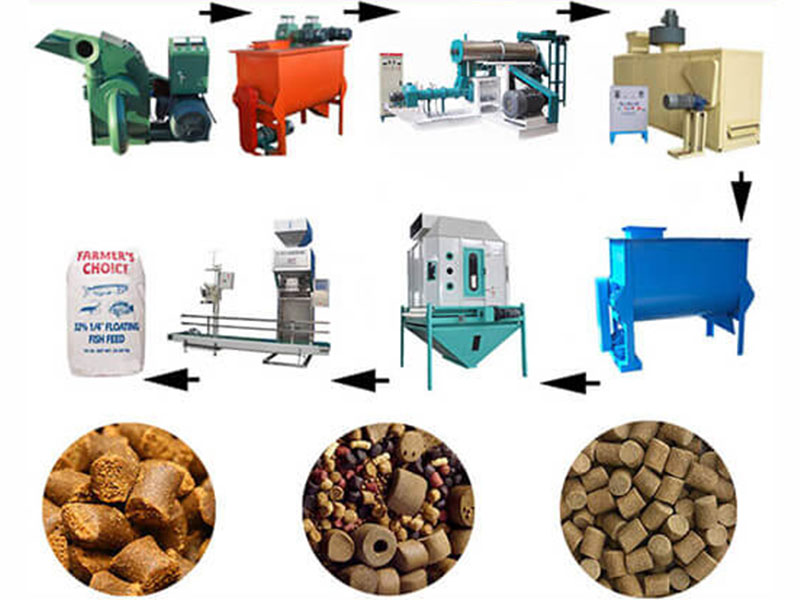 Why Choose Fish Feed Pellets
Fish feed pellets are processed through directly compressing the pellets of pulverized materials such as corn, soybean meal, straw, grass, and rice husk. The fish feed pellets have the advantages of comprehensive nutrition, strong stability, not easy to be broken in water, not easy to pollute the water. Easy to digest and absorb, and save labor for farmers, which is favored by the majority of aquaculture farmers.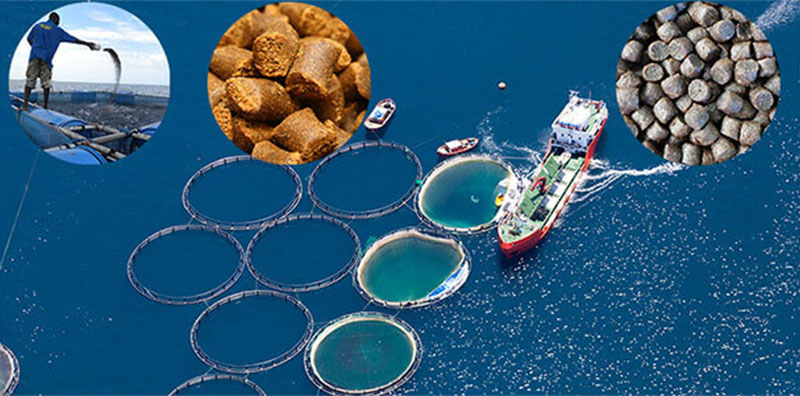 Classification according to processing methods and physical properties of finished products
Soft Fish Feed Pellets
Features: water content 25-30%, density 1g/cm³, soft texture, poor water stability。
Application: black carp, grass carp, bighead, crucian.
Hard Fish Feed Pellets
Features: water content <12%, density 1.3g/cm³, fine structure, good water stability, insoluble nutrients。
Application: carp, trout, catfish
Puffing Fish Feed Pellets
Features: moisture content 6%, density <1g/cm³, loose structure, firm pellets, floated pellets.
Applicable: ornamental fish and other upper fish.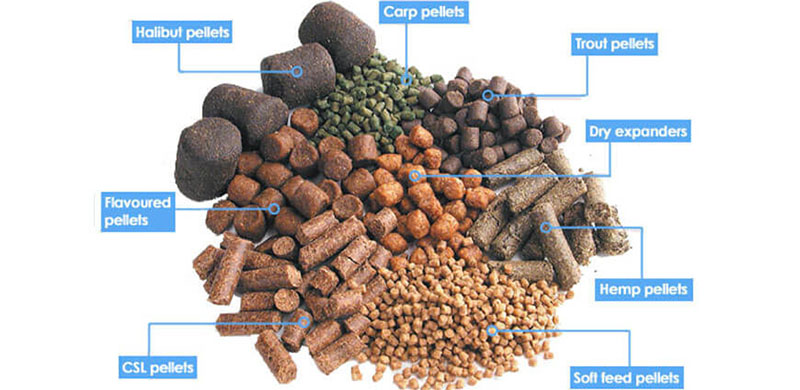 Choosing a suitable fish feed machine and using it properly will significantly improve the quality of the pellets. It will soon reflect a benign effect in the production process. If you can further master the technology of making fish feed pellets by yourself, you can also greatly reduce the cost of materials, thereby increasing profits.
This is about fish feed pellets production technology, if you want to build your own fish farming or fish feed pellet plant, please contact us. Because we are a professional fish feed pellet machine manufacturer with about many years in this industry. We will provide a complete solution to meet your demand.
This Question:"Fish Feed Machine Fish Feed Pellets Production Technology" No answers yet.
Be the first
!