Diesel Flat Die Pellet Machine For Sale
Answers:0 | LastUpdateAt:2019-06-09 18:54:08
Question
amyyan123456

Asked at 2019-06-09 18:54:08
Diesel Flat Die Wood Pellet Machine Introduction
Diesel flat die wood pellet mill can process a wide range of raw materials like agro-forestry wastes and other biomass materials into fuel pellets. Driven by diesel engine, it is a perfect alternative for making fuel pellets in electricity lacking areas. Its small size and diesel engine make it very convenient to move around. Therefore, it is proper for small scale pellet production at home, on the farm, in the yard or outside in the open air.
Flat die feed pellet machine advantages
1. The Feeding Way. Flat die pellet machine feeds the material into the pressing chamber vertically by the weight of itself. And the process speed is even.
2. The diameter of the roller is out of the limit of the flat die, it can expand the inner bearing space. The bigger bearing not only can increase the endurance of the roller,but also improve the pressing power and prolong its life-span.
3. The Discharging Way, flat die has low rotation speed, then it low rate of spoiled pellets.
4. The roller way adjusting way. Flat die roller can adjust with the thread column by manual rotation or hydraulic automation.
Features of Diesel Flat Die Wood Pellet Mill
1. Reasonable and simple structure, small floor area, and low noise.
2. The die compression ratio can be adjusted according to raw materials.
3. Roller and die are all made of high alloy steel, good wear resistance.
4. Equipped with electric starter, easy to start the machine even in cold winter.
5. Integrally cast body, beautiful appearance, firm structure and long service life.
Advantages of Diesel Flat Die Wood Pellet Mill
1. Suitable for various biomass materials, no binder added when pelletizing.
2. Pellet diameter can be set from 6mm-12mm, and the length can be adjusted conveniently.
3. Driven by diesel engine, it can satisfy the requirements of mobile production.
4. Clutch and accelerating-decelerating device are adopted to change running speed.
Main Parts of the Diesel Flat Die Pellet Mill
Gearbox: Adopt imported professional structure design and advanced production technology. Smooth transmission, low noise, heavy load capacity, low temperature rise and long service life.
Main shaft: Equip with heavy-load thrust bearings, big axial force and long life-span.
Roller and flat die: Wear-resistant treatment, both sides of flat die can be used, long service life.
Bearing: All the bearings adopt sealed structure to prevent dust entering, improving the work environment and extending bearing life span.
How does the Diesel Flat Die Pellet Press Work?
When the roller driven pellet mill is in operation, the flat die is totally stationary, while the rollers are rotating and revolving on its own shaft. Raw materials fall down from the hopper into pelletizing chamber smoothly just because of gravity. The great force between rollers and flat die will press raw materials into the holes of flat die to form biomass pellets . A sharp cutter on the other side of the flat die will immediately cut the exposed pellets into pre-setted length, then discharged outside.
Wide Application of Diesel Wood Pellet Mill
It can process biomass materials like wood, sawdust, bamboo, bagasse, pine wood, alfalfa, straw, wheat bran, cotton stalk, rice husk, cotton stalk, forestry wastes and many other wastes into high density pellets for industrial or home heating.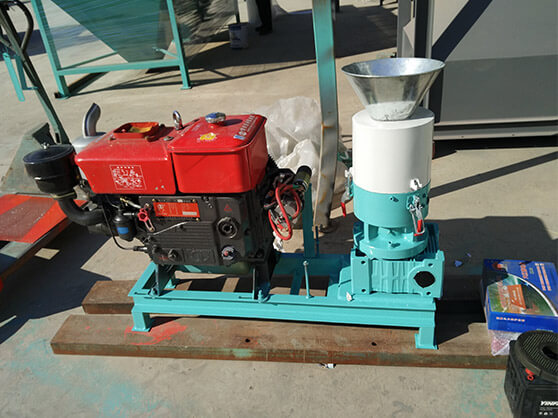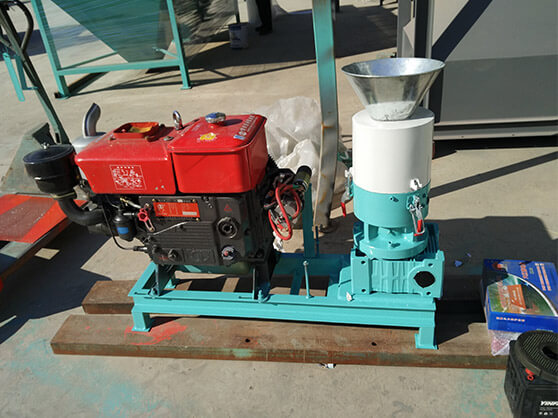 This Question:"Diesel Flat Die Pellet Machine For Sale" No answers yet.
Be the first
!