How Does A Wood Pellet Production Line Work?
Answers:1 | LastUpdateAt:2019-07-10 00:07:41
Question
Asked at 2019-06-27 17:58:50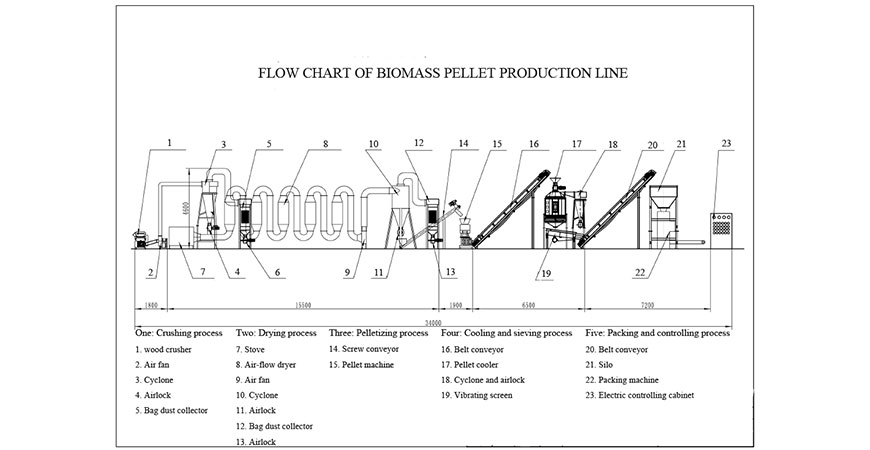 Industry Wood Pellet Production Line Introduction
The complete sawdust pellet production line is designed for industrial production and can produce biomass pellets of any type of agricultural and forestry waste, with a capacity of 1 to 10 tons per hour. Finished wood pellets are widely used in industrial boilers and large power plants for heating purposes as well as domestic use to to ease the energy crisis and meet environmental requirements.
A complete sawdust pellet production line for the wood pellets, including:
Raw material preparation, wood crushing (logs and other biomass material diameter more than 5 mm), sawdust drying (if the raw material moisture is more than 18% water), sawdust pelletizing, sawdust pellets cooling, biomass pellets packaging.
Detailed Process Of The Wood Pellet Production Line
1. Material Preparation
Sawdust can be made from woodlogs, wood shavings, any forestry waste or biomass straw, straw, etc. Wood chipper is maily to crush the wood logs into wood chips, and the crusher is mainly to crush the wood chips into sawdust.
2. Sawdust Drying Process
The perfect raw material moisture before pelletizing is 11%-17%, so before the pelletizing, the sawdust needs drying machine to meet the moisture standard. If the biomass pellet line capacity is less than 1000KG/H, air flow dryer is a good choice. Because the air flow dryer can process that capacity with low consumption,usually it can dry the moisture 20%.But if the capacity is more than 1T/H, then it needs the rotary dryer, it can process large capacity and dry the sawdust with long routing. In oerder to save the cost, we have 3 layer rotary dryer, that is the sawdust drying route is 3 times than one layer dryer, so the drying effciency is improved obviously. By this way, the moisture will dry off 40%.
3. Wood Pelletizing Process
The pelletizer is an important part of the sawdust pellet production line with reliable and stable performance. If the capacity is less than 1T/H, you can choose the flat die pellet machine . And ring die wood pellet machine is usually for the capacity from 1T/H to 20T/H.
4. Wood Cooling Process
After pelletizing, the pellet temperature will be within 60-80℃,the moisture is close to 15%. So it needs the cooler to lower the temperature and the moisture. After this process, the pellets will be suitable for longtime storing. Usually the industry pellet production line will use the countercurrent cooler as below photo.
5. Auto Packing Process
The packaging process will keep the wood pellets from moisture. Our automatic wood chip weighing and packing system adopts PLC control stytem, it's high weighing accuracy, easy operation.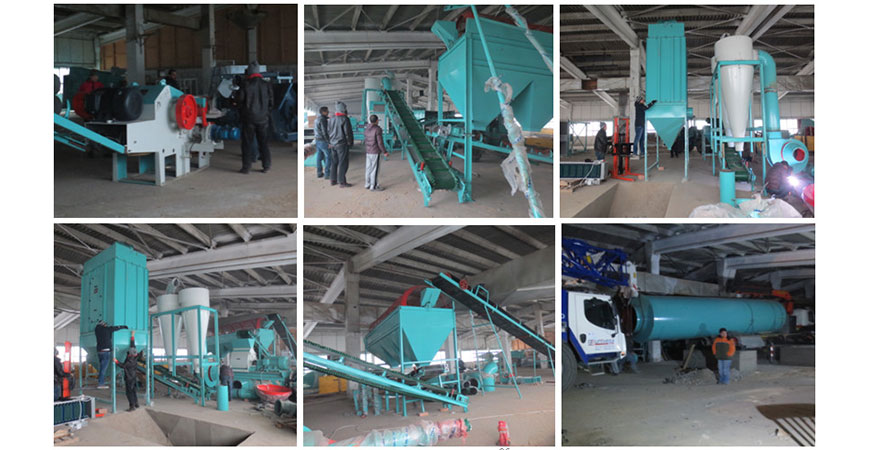 Answer1
林林
Answered at 2019-07-10 00:07:41